NEWS

10/03/2014

Denney and The Jets on Burger Records'
CARAVAN OF STARS Tour 2014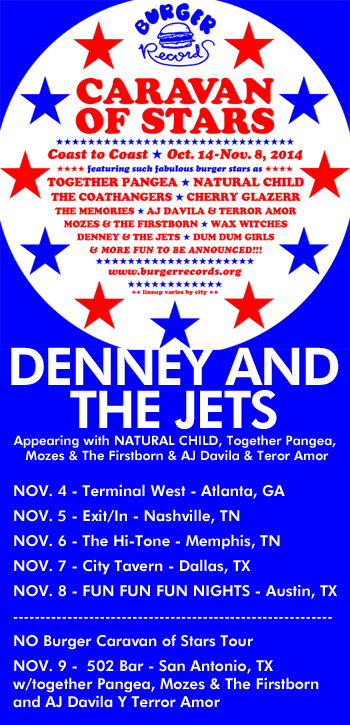 ----------------------------------------------
11/08/14 — AUSTIN, TX — FUN FUN FUN NIGHTS -
BUY TICKETS

03/18/2014

Pre-Order MEXICAN COKE Right NOW BELOW!

Also, you can pre-order it on iTunes or Amazon

02/11/2014
Out TODAY!!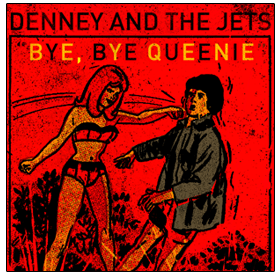 "Bye Bye Queenie" -- the first single from our new record, Mexican Coke, which is out April 8th on Limited Fanfare Records/Burger Records!

Good guys and gals Brooklyn Vegan are premiering the track right HERE

BUY at iTunes * Amazon * EMusic

STREAM at Spotify * Rdio



01/08/2014

HAPPY NEW YEAR!!! Time for some action...

We're doing a 2-week tour in April with WHITE FANG! Check out the dates HERE

We'll have some choice announcements VERY SOON!!!

---------
07/30/2013

So....We finished our NEW album recently, which we'll have info for you guys soon about! We're very proud of it and we'll be playing songs on the road in October and November with those great Oklahomans, BRONCHO -- Check out the TOUR DATES page for more...

Also, We're doing a hometown show in Nashviille on August 29th @ the fooBAR and a great new festival in Indianapolis called WARMFest on August 31st with Mayer Hawthorne, Delta Spirit, Kopecky Family Band and more...TICKETS HERE FOR THAT!!

---------

06/07/2013

Hey Ya'll...it's been a while...pardon....

We're in the studio next week with our good buddy Andrija Tokic at The Bomb Shelter here in Nashville to begin work on our Debut LP, which will be out in the early Fall! We're excited! More news on that soon...Promise! Look out for Fall Tour Dates as well....

C Den and The Jets


03/06/2013
Is it SXSW time already? FUCK YEAH AUSTIN!
We play at 9pm at Valhalla on March 15th!
Be there for the ENTIRE show...it's spectac!

Here's the info:

Danny Rose / Park The Van SXSW 2013
Friday, March 15 8PM
Valhalla, 710 Red River
with performances by
He's My Brother She's My Sister (1am)
BRONCHO (12am)
Lovely Bad Things (11pm)
Beach Day (10pm)
Denney and The Jets (9pm)
Skating Polly (8pm)
Here's the Poster (by Matt Adams):


01/12/2013

We're ON TOUR (this time as a special duo show) with our friend Derek Hoke... DATES HERE
Back with the Full Band (with some new surprises) on the West Coast in late February and back, down to SXSW with The Lovely Bad Things!

We'll also be on Fearless Radio in Chicago (fearlessradio.com) on Jan 12th @ Noon (Central).
LISTEN HERE


11/04/2012

Check out a few NEW TOUR DATES on our November run with our buddy Tristen

Also, new January dates in the Midwest and NE with fellow Nashvillian Derek Hoke supporting!



10/22/2012

We did an supremely FUN Audiotree.tv Session last month with Evil Vince and the fine crew in Chicago! CLICK RIGHT HERE for the FULL HD Experience or check it out below!



9/26/2012

Our tour with The Growlers starts this weekend, but before, on Friday, 9/28 we're doing a Chicago double-dip -- doing an Audiotree.tv live session 2pm (CENTRAL) and show at night at Beat Kitchen.

SEE ALL THE TOUR DATES HERE!

Also, NEW shows with our friend Tristen in November in Florida and Georgia...FUN FUN FUN!!!
HEY!!! Welcome to the new digs....

Right now we're on TOUR in the Midwest and East Coast celebrating the release of our new Self-Titled EP, which you can BUY from our kind fam at Limited Fanfare Records. The EP was produced by Andrija Tokic (Alabama Shakes, The Parting Gifts) and Ourselves -- and is $2.99 Right now on iTunes and Amazon...It's also available on Limited Edition Digipak CD (LTD to 150) and Cassette (LTD to 300 on a Transluent Purple Shell - THANKS to our friend Sean and everyone at Burger Records)

We'll be out again in late September with those awesome LA dudes The Growlers...
Check out the TOUR DATES HERE!!

By the by, we did a DAYTROTTER Session a few weeks back in Nashville...we'll have more on that soon! Also, we're doing an Audiotree.tv LIVE SESSION on September 28th @ 2pm Central!!!

Caitlin Meyer at Consequence of Sound gave the NEW EP 3 Stars---------> Check it Out Right HERE

-------------------